Cla-Val Co. Fire Protection Products
Cla-Val Co. Fire
Protection Products
Since 1936, Cla-Val has produced the world's highest quality automatic control valves. Cla-Val continues to maintain this level of excellence because of its dynamic combination of engineering expertise, craftsmanship, quality materials, sophisticated manufacturing processes and superior customer service. This holistic approach to quality control is why Cla-Val is recognized across the nation and around the world. We're proud to be Cla-Val distributors.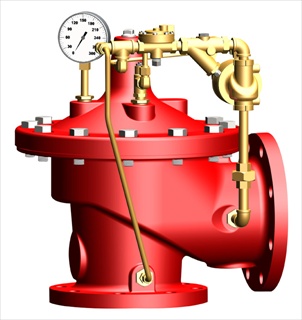 Through over 70 years of industry experience, Cla-Val has worked with a broad variety of applications—from fire protection to farm irrigation. Aggressive research and development programs have allowed Cla-Val to tap into this deep reserve of experience, and continually produce cutting-edge solutions to today's increasingly diverse applications.

Here are some of the products offered by Cla-Val Co.:
U.L., U.L.C., and MEA Approved fire protection pressure reducing valves, with grooved connections
Main relief valves
Suction control valves
Backflow preventers, check valves
Altitude valves
Air release valves
Learn more about Cla-Val pressure reducing valves, Cla-Val pressure relief valves, and other fire protection products on the manufacturer's website or contact us if you're in need of sales and/or service.