Who We Are
Our industry requires a strong commitment to quality, and an exhaustive attention to detail. You need a supplier that has extensive local industry experience, represents quality products, values customer relationships, and simply knows the fire pumps industry inside and out. At Steven Brown & Associates, Inc. we understand that helping our customers make the right decisions about their fire pump needs is crucial. That's why we pride ourselves on knowing more about fire pumps-from the design phase to field service and maintenance—than anyone else around.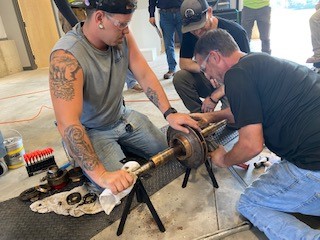 We are focused specifically on the sprinkler industry.

We realize the amount of time and attention to detail the sprinkler and fire pump industries demand, so we have sought to handle products that benefit our primary customers—sprinkler contractors, fire protection engineers, and equipment maintenance professionals.
We know from experience that the products we handle are among the best in the industry, and we take great care when selecting products with which to associate our name.
New code changes pertaining to fire pumps do not take us by surprise. It is our business to know NFPA 20, NEC, BOCA, NFPA 14, NFPA 25, among others.

We employ full-time, in-house technicians.

At Steven Brown & Associates, we employ factory-trained field technicians, available to fully support our product line and assist our customers. In addition to this support, we maintain qualified office staff to handle customer inquiries.
This means YOU get a return phone call or quotation promptly, regardless of what is happening in the field.
Our extensively trained technicians perform hundreds of fire pump start-ups and tests each year. While many of our competitors are happy to outsource their representatives in the field, we are personally involved in all aspects of fire pump installations involving our equipment. We're not just in it for the sale — we want it done right and professionally.

We have an extensive product inventory.

We stand ready to supply any of the most common brands or sizes of jockey pumps.
We stock parts for all Aurora fire pumps: packing, swing bolt assemblies, gaskets, bearings, etc.
We stock all the common accessory items: air release valves, casing release valves, brass orifice unions, and pressure gauges, (both dry and liquid filled) as well as flow test equipment such as tachometers, Pitot tubes, and amp meters.

Steven Brown & Associates has the experience.

We have assisted with over 1,200 successful fire pump and controller installations since our company's inception in 2000.
As fire pump technology changes, so do we. We have direct, active experience with the successful application of variable speed pressure limit controls on diesel-driven fire pumps, variable frequency drives, and microprocessor-based fire pump controllers—recent technological advances within in the industry.
We have had success in various special fire pump applications, such as:
Vertical turbine fire pumps
Single phase fire pumps
2-phase conversions
Positive-to-negative ground diesel engine conversions
Pressure reducing valve use and correct application
Installations in lieu of main relief valve
Suction control valve applications
Variable speed control on both electric and diesel-driven fire pumps
Skid-mounted and prepackaged fire pump assemblies
Packaged fire pump houses
And much more!

We value the consulting engineer.

We look forward to sitting down with any engineer to discuss current or future fire pump applications. We know mechanical engineers must be responsible for such a varying degree of information on a given project that it is difficult for them to quickly come up to speed on fire pump codes and requirements. That is where we can help. Sample specifications, quick dimensions, curve and pump selection — whatever your needs, please give us a call!

We offer a convenient location.

We are centrally located within our territory, just minutes from I-95 in Wilmington, DE. We are approximately 40 minutes from downtown Philadelphia and 75 minutes from Baltimore, MD.

We offer control panel troubleshooting and repair.

Our expertise does not stop at the fire pump. We are experienced at control panel troubleshooting and repair. In addition, we have a strong relationship with all control panel manufacturers to guarantee fast turnaround and response in case of an emergency.

Get fast quotations, fast shop drawings, and fast lead times.

We have been among the leaders for Aurora Pump form 2001 through 2013 and Fairbanks Nijhiuis. We have also recently started representing Peerless Pumps as well.
We can review specifications, fax or e-mail quotations, and send out shop drawings for engineering approval faster than our competition.
Since 2000, we have steadily increased our fire pump sales to become one of the largest volume fire pump distributors in the country. We have been among the leaders for Aurora Pump from 2001 through 2013. We are active members in local chapters of SFPE, ASCET, NFPA, ASPE, as well as the local chapters of the New Castle County (DE) Chamber of Commerce and Better Business Bureau.
Mission Statement
We are a premier fire protection equipment supplier serving the Mid-Atlantic sprinkler industry. Our goal is to provide the best quality products and services at competitive prices.
The relationships that we strive to establish and maintain with both customers and vendors are the cornerstone of our business.
We value our customers. We do our best to earn customer loyalty by being an invaluable
resource, providing training, ongoing support, and outstanding service.
We value our vendors. Our strong relationship with our vendors is crucial to providing full
service support for our customers.
We value consulting engineers. We gain satisfaction in contributing to the successful design and completion of a fire protection project. We endeavor to use our experience and knowledge to help match the correct equipment to the correct application.
With passion and conviction, our knowledgeable, professional, and highly skilled staff is committed to making all interactions with our customers successful, and to maintaining the highest level of service and satisfaction in the fire pumps industry.