Edwards (Pentair) UL/FM Foam and Water Mist Pumps
Since 1926, Edwards High Performance Pumps have proven their reliability in fighting countless fires across the nation. Edwards offers custom-built pumps and complete pump packages, as well as repair and flow test facilities. An industry leader in quality assurance, Edwards was the first pump manufacturer to introduce UL/FM foam concentrate and water mist packages. With Edwards, every client can expect to find a winning combination of timeless reliability and timely innovation.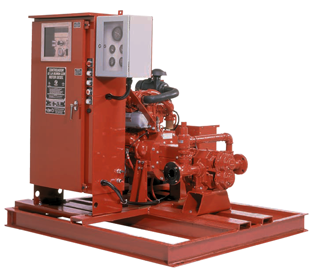 Here are some of the features of Edwards EMI UL/FM Foam and Water Mist Pumps:
High-Performance Rotary Gear pumps.
UL Listed, FM Approved, NFPA 20 Compliant.
Dry running capability, all bronze construction.
UL/FM Foam and Water Mist Packages.
Petro-Chemical, Aircraft Hangar, Water Mist, Mobile Apparatus Foam Injection & Transfer Pump systems.
All Edwards foam pumps and Edwards water mist pumps undergo rigorous flow tests to ensure quality and durability
Need replacement pumps or parts? We are your source!

Edwards (Pentair) UL/FM Foam & Water Mist Pump Installation & Operation Manuals
We have a variety of helpful resources available, including installation and operation manuals for many Edwards models.

Learn more about Edwards fire pumps on the manufacturer's website, or contact us if you're in need of Aurora fire pump sales and/or service.