Steven Brown in the Media: Choose the Right Fire Pump
July 29, 2019
Back in May, Steven Brown & Associates was featured in Pumps & Systems magazine! We wanted to help our customers and others learn about the advantages and disadvantages of different pumps used for stationary fire protection.
We discussed two types of fire pumps in our article: horizontal split case pumps and end suction horizontal pumps. The differences between these two pumps are drastic, so it's important to truly understand what each one has to offer in order to choose the right fire pump.
Horizontal Split Case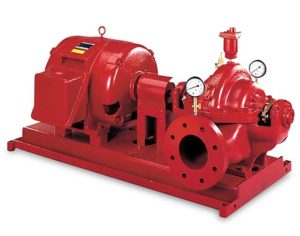 Horizontal split case (HSC) pumps receive their name from the split design of the casing, where the cover can be lifted off the pump to expose the internal components. HSC pumps include two bearings, located on either side of the impeller, which are useful to withstand the vibration and thrust forces caused by water turbulence in the suction piping. The casings can be designed to handle higher working pressures and are often heavier. The durability of the HSC design allows the pump to be used for water flows in excess of 5,000 gpm.
An HSC pump is not always mounted horizontally. It is possible to have the same durability features with a vertical mount. The HSC pump is often connected to an appropriate driver by a coupling or drive shaft. When mounted horizontally, this can create a larger footprint. Because of a concern for floor space, HSC pumps are not typically chosen for flows below 1,000 gpm.
End Suction Horizontal
End suction centrifugal pumps get their name from the pathway the water takes to enter the pump. Typically, the water enters one side of the impeller. On horizontal end suction pumps, this appears to enter "the end" of the pump. Unlike the HSC, the suction pipe and motor or engine are parallel to each other, eliminating the concern about pump rotation or orientation.
One benefit of an end suction pump can be a lower initial cost. If the pump can perform at a given rating and pressure, then the pump will work. If driven by a diesel engine, another advantage is the ability to situate the engine in parallel and near a wall (assuming proper air ventilation is considered).
This is just a sampling of the information provided in our full magazine article. To read the complete article, click here. To view the May edition of Pumps & Systems or to subscribe to the magazine, click here.
At Steven Brown & Associates, it's always in our best interest to help you make informed decisions about fire pump safety in your workplace. For more information or if you have questions, we invite you to give us a call at 302-652-4722 or send us an email. We thank you for your continued support, and we look forward to hearing from you soon!
Related Articles