What Can Steven Brown Do for You?
October 3, 2018
When you're researching which company to choose to install your new fire pump system, there are a lot of factors to consider. How experienced are the technicians? How do I know I'm getting the most for my money? Will the final product be reliable in an emergency? At Steven Brown & Associates, we are committed to bringing you the highest quality products, installed and maintained by the most experienced techs. Today we want to bring you some peace of mind by detailing our combined experience in this field and explaining our process for troubleshooting and maintenance.
How Long Have We Been Doing This?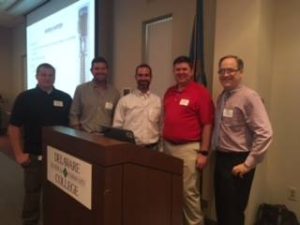 Between all of our technicians, Steven Brown & Associates holds well over 50 years of experience. What do all those years mean? It means you'll be getting the best service from the techs who have seen it all. We can service any machine and guarantee that yours will be in tip-top shape should an emergency ever occur. Our technicians are full-time and in-house, so you know we'll be there when you need us most.
What Exactly Do We Do?
At Steven Brown & Associates, we are specifically focused on the sprinkler and fire pump industry. By narrowing our field, we are able to provide the most comprehensive service available within that field. In our 18 years of service, we have installed over 1,200 successful fire pumps and controller systems. We are also keen on adapting to changing technologies and how they pertain to updating and optimizing our fire pump systems. Taking the time to meet with as many engineers as we can, we've stepped into the future of fire pump and sprinkler technology in order to keep you, your family, and your business safe.
We have had success in various special fire pump applications, such as:
Vertical turbine fire pumps
Single phase fire pumps
2-phase conversions
Positive-to-negative ground diesel engine conversions
Pressure reducing valve use and correct application
Installations in lieu of main relief valve
Suction control valve applications
Variable speed control on both electric and diesel-driven fire pumps
Skid-mounted and prepackaged fire pump assemblies
Packaged fire pump houses
What Else Do I Get with Steven Brown?
Besides superior quality equipment and friendly, knowledgeable technicians, we pride ourselves on speedy, accurate troubleshooting and quotations. Our technicians are skilled with control panel troubleshooting, and through the strong relationship we have built with our control panel manufacturers, we can guarantee a speedy turnaround time so that you aren't left without protection in case of an emergency.
Installing a fire pump system is a precaution for a scary situation, and we want to bring you peace of mind. To talk to one of our representatives and get a quote today, visit us at www.stevenbrownassociates.com, send us an email at [email protected], or give us a call at 302-652-4722. We would be happy to help!
Related Articles