5 Christmas Fire Safety Tips
December 10, 2015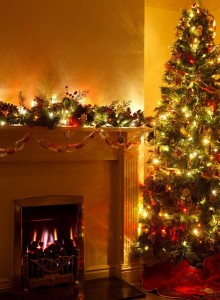 Holiday decorations and Christmas trees account for a significant amount of fires each year according to the NFPA. We've previously told you how winter is the most prevalent time for home fires, and offered some general winter prevention tips here on our blog.
Adding to those previous winter fire prevention tips, we've put together this brief list of Christmas themed fire prevention tips for those celebrating the holiday season. Be sure to keep these tips in mind and help protect yourself and your family this holiday season.
Keep any flammable items or decorations at least three feet away from an open flame or heat source.
Any decorations that pull electricity should not be worn out. If the wires look to be in poor shape, it's time to recycle them.
Properly manage your plugs and cords. Don't overuse any outlets, and never use more than one extension cord per decoration. If you need a longer reach, purchase a longer extension cord or relocate the decoration rather than plugging several together.
Don't leave any source of heat or flame unattended. Stoves, ovens, and heaters all should be turned off before you leave a room, leave your home, or go to bed.
We hope you've found this and our other blogs throughout the year as a helpful resource in the fire pump sales and service industry. As we look back on 2015 we want to thank everyone who we've had the chance to work with this year!
We've made significant efforts to provide an even better experience to you and to answer any questions you may have had over the last 12 months. These changes include:
Making the website mobile and tablet friendly
Adding hundreds of PDF resources on fire pumps, controllers, drivers, and accessories
Expanding our team
With all this in mind we're excited to see what 2016 will bring, and please be sure to let us know if we can help you in the New Year. Once again, from all of us here at Steven Brown & Associates, thank you for a great 2015!
Related Articles