Hubbell Launches a New Line of Metron Fire Pump Controllers
May 17, 2016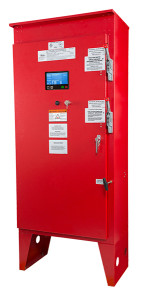 Recently the great minds at Hubbell Industrial Controls, Inc., manufacturer of Metron fire pump controllers and transfer switches, released a new product we'd like to bring to your attention. Our blog today outlines this new MPT Fire Pump Controller series and what features are offered with this new line.
Fire pump controllers with integral automatic transfer switches provide a reliable means for bringing emergency power directly to the fire pump in case of loss of normal power. While this feature is important, the drawback to this arrangement historically has been that those controllers take up a lot of space in a mechanical room, especially with a more advanced, reduced voltage starting method, such as Solid State Soft Start, or Wye Delta Closed Transition. Today's mechanical rooms are even smaller than previous years, and often engineers and architects are under pressure to condense their fire pump room layouts even more.
But what do you do if you want a reduced voltage starting method with a transfer switch, and you have a limited mechanical room floor space?
Metron solves this problem with a new MPT Fire Pump Controller series that provides various controller starting methods, and is designed with only a 32" wide dimension. This is a significant space-saver dimensionally, especially when using a Solid State Soft Start controller, with a motor size of up to 150HP (440-480 volt, 3 phase). For 200-208 voltage, the motor HP size maximum is 60HP. There are many controller manufacturers out there, and the size of the fire pump controllers with integral transfer switches vary quite substantially from 32" of width. With the smaller width does come a taller product – approximately 75" in height when mounted with legs.  Typically, though, space issues in fire pump mechanical rooms have more to do with wall space than height.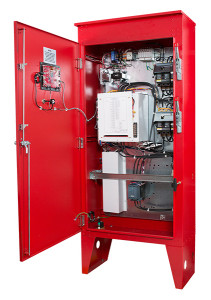 This product offers some great new features along with the condensed size, such as a new seven inch color screen and a through-the-door USB port to download fire pump activity data.
The starting methods included with this are:
MPT300 – Across-the-line starting
MPT420 – Part Winding
MPT430 – Wye Delta Open Transition
MPT435 – Wye Delta Closed Transition
MPT700 – Solid State Soft Start
If you'd like to learn more about the new MPT Fire Pump Controller series we encourage you to give us a call today at 302-652-4722. We're more than happy to answer any questions you may have!
Related Articles