Manufacturer Spotlight Series: Aurora Pumps
January 12, 2017

As we move through 2017, we inch closer to the centennial of one of the best-known brands in the fire pump realm. Since 1919, Aurora Pump (a brand of Pentair) has maintained a superior reputation as a pump and system supplier across the United States and the world. What helps Aurora to stand out amongst its competitors? We've observed three traits:
Consistent manufacturing quality
Long-lasting performance
Reliable customer service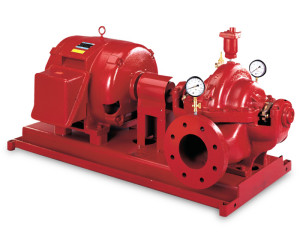 Aurora is much more than just a fire pump company. While Steven Brown & Associates focuses exclusively on Aurora's fire protection product line, there are other product lines for commercial, industrial, marine, oil and gas, and municipal/water treatment applications.
As an Aurora pump distributor, we can help you if you're looking for Aurora pumps, pump parts, or service on any of the following:
Edwards Rotary Gear Pumps

Series 20, 80, 150, 160, 300, 400, and Edwards Series Pressure Relief Valves

Fire Protection

Series 911 Single Stage Inline Fire Pump
Series 911.5 End Suction Fire Pump
Series 912 Horizontal Split Case Electric Drive Fire Pumps
Series 912 Vertical Split Case Electric Drive Fire Pump
Series 913 Horizontal Split Case Diesel Drive Fire Pumps
Series 914 Fire Pump Vertical Turbine
Fire Pump Accessories
Jockey Pumps

Fire Protection Packaged Systems

Series 918 Packaged Fire Pump Systems
Series 919 Compact Fire Pump Systems
If you've misplaced (or never received) an installation and operation manual for one of your Aurora fire pumps, you may be able to locate one to download from our resource center. Another place to look for helpful information is a post we wrote recently about troubleshooting Aurora Fire pumps.
Of course if you have any questions about the Aurora pump line, or would like to speak with a sales or service associate, give us a call at 302-652-4722 and we'll be happy to assist you. Meanwhile, feel free to browse Aurora's website at www.aurorapump.com to see what else there is to learn about this great company and its products.
*Please note, for a wide variety of duties and applications, select PVM pump models with accompanying motors are now available for the quick ship program for a nominal fee. Orders must be received by 10 am and will qualify for next day shipment.
Related Articles